These two new paintings feature trees silhouetted against a dark background but evoke two different time of day, the first one is a small Irish nighttime painting inspired by Fairy Raths: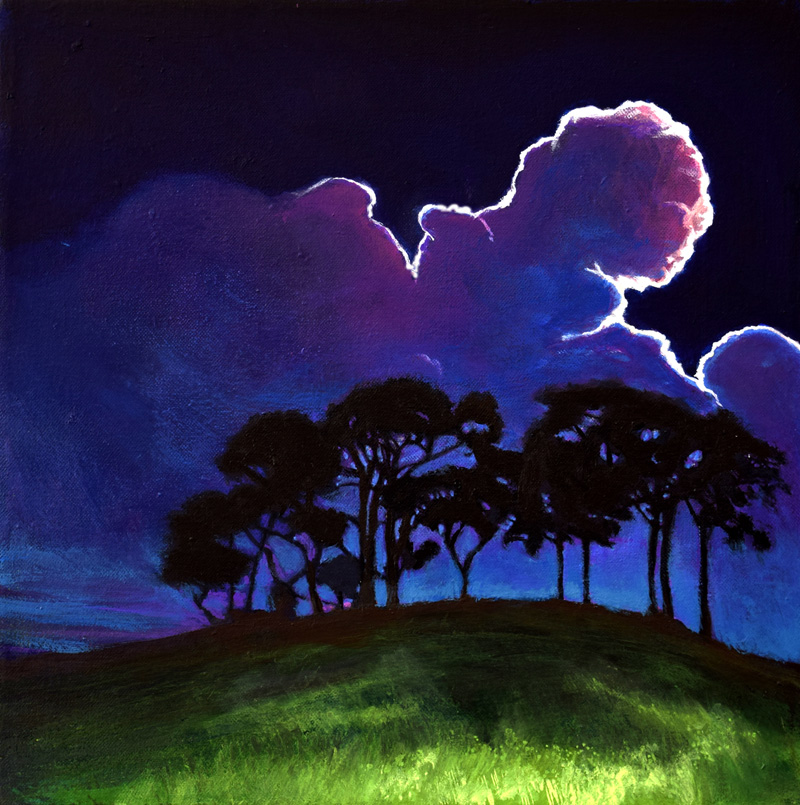 The Fairy Rath VII30 cm x 30 cm x 4.5 cm, acrylic on canvas, ready to hang
$397 (approx. £314, €355)Have you ever wondered what it would be like to come across a fairy Rath at night?
Would you dare to step inside and explore the unknown?
These ancient fortifications are scattered across the whole of Ireland, they are circular earthworks that marks the entrance to the realm of the fairies in Celtic folklore.
Some say that stepping into a fairy ring can bring you good luck, while others warn that it can trap you in the fairy world forever.
When I created this painting, I wanted to convey the sense of awe and mystery that one might feel when faced with such a sight in a night setting.
The trees on the hill are silhouetted against the sky, creating a sense of depth and perspective.
The sky is filled with a billowing cumulus cloud that reflects the moonlight and adds drama and movement to the composition.
The deep rich acrylic colours in this work evoke that magical and enigmatic atmosphere.
What is it about colour that creates emotion, mood and atmosphere in a painting?
In this second painting, we are at sunset in Provence on a warm spring day.
Pine Trees at Sunset
80 cm x 80 cm x 3.8 cm, acrylic on canvas, ready to hang
I have always loved pine trees. Their majestic and elegant form. Their perfume that fills the evening air.
The best time to experience strong contrasts in light and dark while out rambling is at sunset.
Shape and form emerge with a better definition.
That's when trees transform from green to black, and a striking silhouette appears against the glowing clouds.
That's when they become more than just trees, but symbols of beauty and mystery.
I recently had the opportunity to witness such a sunset in a pine forest near my home.
When I reached a clearing, sky and pines were clearly visible.
The sun was already low, casting a deep orange hue across the sky.
A large cumulus cloud was filled with colours ranging from orange to pink and red.
The trio of pine trees, already dark against the sky, looked like giant sculptures or paintings, each one unique.
The long slender branches seemed to reach out to touch the sky in an embrace.
The light imperceptibly faded and as it faded, green plants that carpeted the ground began to glow in the dark.
This painting emerged from the feeling that I have of the memory of that evening.
I'd love to hear what you think of the paintings.
Which one appeals to you most?