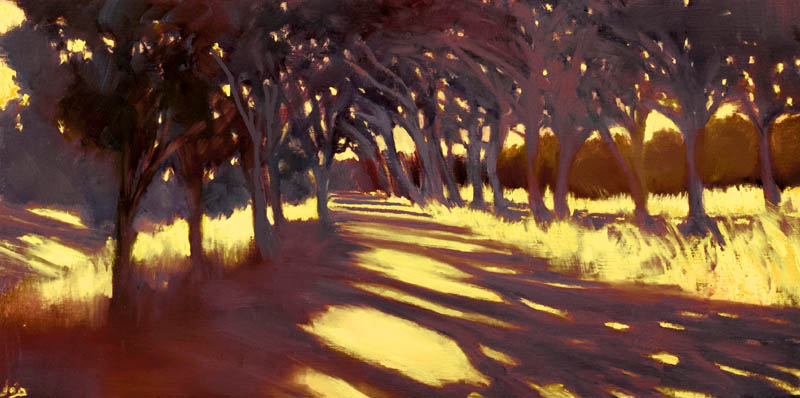 I Took the One Less Travelled by IV ©John O'Grady
6″ x 12″ x 1.5″, Oil on deep edge panel, ready to hang.
SOLD
This painting is a companion piece to last week's. It's a different time of day and a different atmosphere.
It has been very warm in Provence over the last few weeks. The temperature rose to 40 degrees centigrade and triggered an official heat wave. Mornings were already above 30 degrees centigrade.
This morning heat set the tone for this week's painting.
Here, the golden light floods across the road from left to right.
The dappled light of last week's painting is replaced with alternating bands of light and shadow as the road disappears into the distance.
The shadows started off a cool grey blue to reflect the atmosphere of a normal morning but when I had finished them, they didn't feel right, they didn't sit well with the light flooding across the road.
I painted over the shadows and allowed the blue to show through a warm reddish purple to achieve that feeling of heat.
I'd love to read your comment.