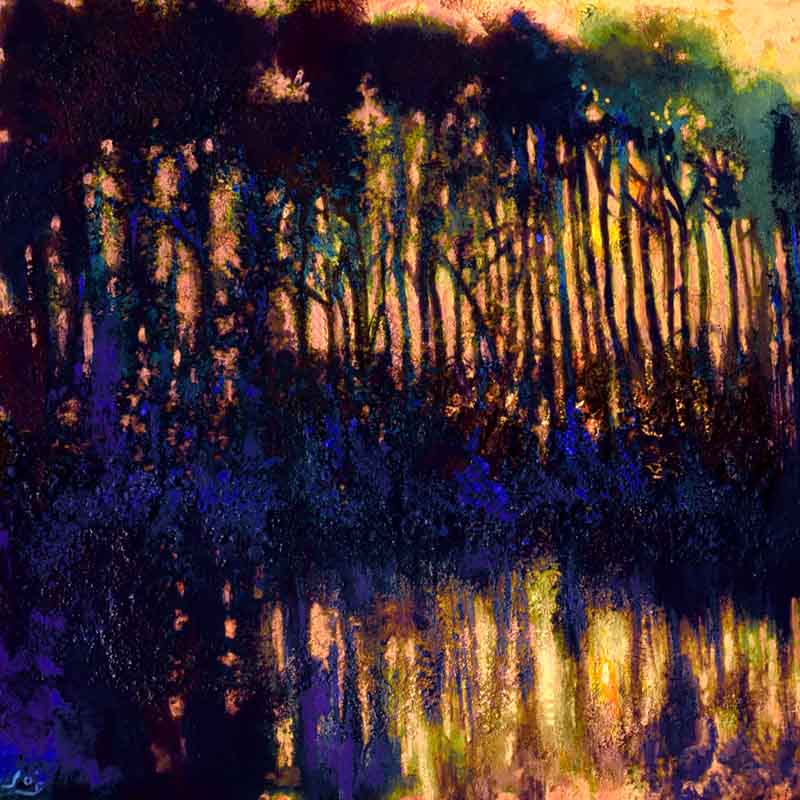 The Clearing in the Wood III, ©John O'Grady
8″ x 8″ x 1.25″, acrylic on deep edge panel, ready to hang
SOLD
A few weeks ago, whilst out walking through the wood along the Ouvèze river, I noticed how the atmosphere of the place changed.
Light was falling. The wood was getting dark.
In the distance, I could see the blue-black silhouettes of pine trees standing out against the light orange sky.
Plants and trees were becoming indistinct and losing shape, replaced by an encroaching gloom.
Yet, I carried on and made my way through the dense woodland.
Glistening through the undergrowth, I spotted a bright light.
I decided to investigate.
As I approached, the dappled-light filtered through the canopy seemed to spread on the ground. Trees and bushes thinned out and revealed, before me, pure golden light reflected in a small pond.
Like a jewel sparkling in the darkness, the still water glowed against the blue back woodland surrounding it.
It was a quiet and still midsummer evening in Provence…
I'd love to read your comment.