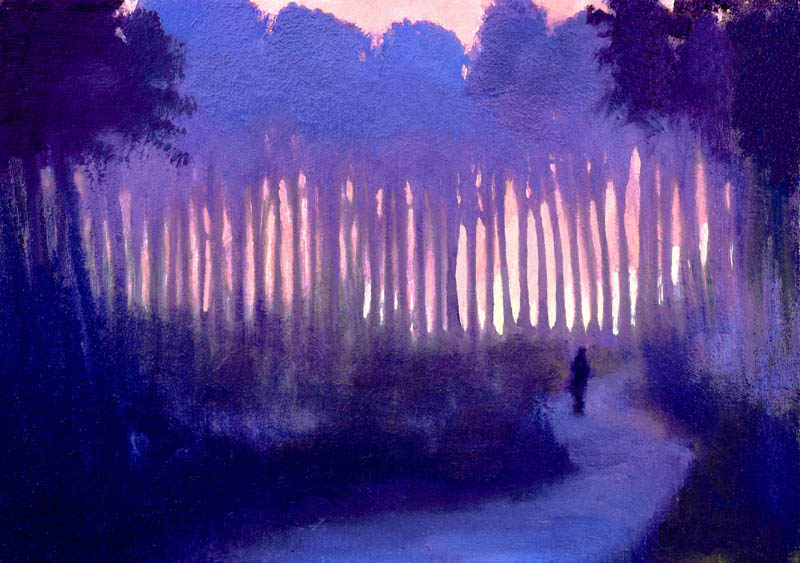 Murmur in the Trees V, ©John O'Grady
10″ x 14″ x 0.75″, oil on canvas, ready to hang.
NFS (Not for Sale)
The title of the painting is named after Emily Dickinson's poem 'A Murmur in the Trees – To Note' and is the fifth piece inspired by this wonderful title.
The line comes to mind when out walking through the Mediterranean pine forests you'll encounter near where I live.
The trees are wonderfully sculptural, tall and slender like a Giacometti sculpture and as the breeze passes through them, they sway gracefully, bending to touch each other, whispering.
This conversation takes place among the trees but by listening in, we are immersed in it.
Wandering along the path, the figure, you or me, is standing in the middle of the path, still, taking in the moment.
I'd love to hear what you think about the painting and whether it captures for you any sense of stillness.
Have you ever experienced a special moment of connection with nature? If so let me know, I'd love to hear about it.
The Making of 'The Wave' Day 3
It's another time lapse piece at double speed that lasts about 3 minutes.
If you wish to see it at normal speed, you can click on settings at the bottom right of the video and change the speed to 0.5 although you might need to lower the music down as it too will be at half speed.
Click on 'The wave' to see the first video.