In 2017, I created over 40 paintings. It was interesting, like last year, to look back and see how the work has changed throughout the year. The colours are more understated. Lead, copper, bronze and gold have arrived on my palette as you'll see in the seven paintings I chose for us to look at again.
Do you have a favourite one? Do let me know.
Thank you for your continued support over the last year.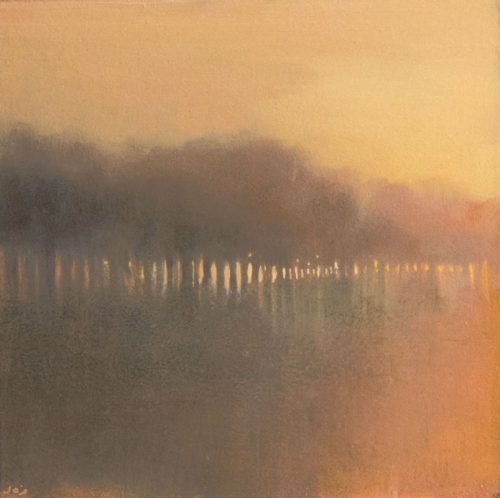 'The Awakening'. This recent large piece was finished just before the new year. Built up in glazes of gold and sepia tones, it heralds the light of the New Year.

'Take me to the Island XI'. During January 2017, I explored monochromatic seascapes. This one is a striking and dramatic mixed media piece that now lives in California.

'From Dark into Light VII' is very much a continuation of the piece above but with more of a silver hue. This exploration of the sea and sky is quieter in atmosphere.

'You Are Everything VIII' continues the metallic theme with copper and bronze emerging.

'Clearing in the Wood IV'. In July, when the heat of Provence was at its height, I painted a magical piece rich in deep gold and orange set against the silhouetted trees of a balmy summer evening and now resides in the United States.

'Where the Veil is Thin II'. In the autumn, the greenish-copper undertones of this landscape painting evokes the light of the west of Ireland on a very wet day.

'Soleil Levant'. To come full circle, I will end with this piece finished at the turning of the year. It's a large painting that echoes, with a muted sepia and gold palette, 'The Awakening' piece at the top of the post.
These are my picks for 2017.
Now over to you, which painting marked your year?