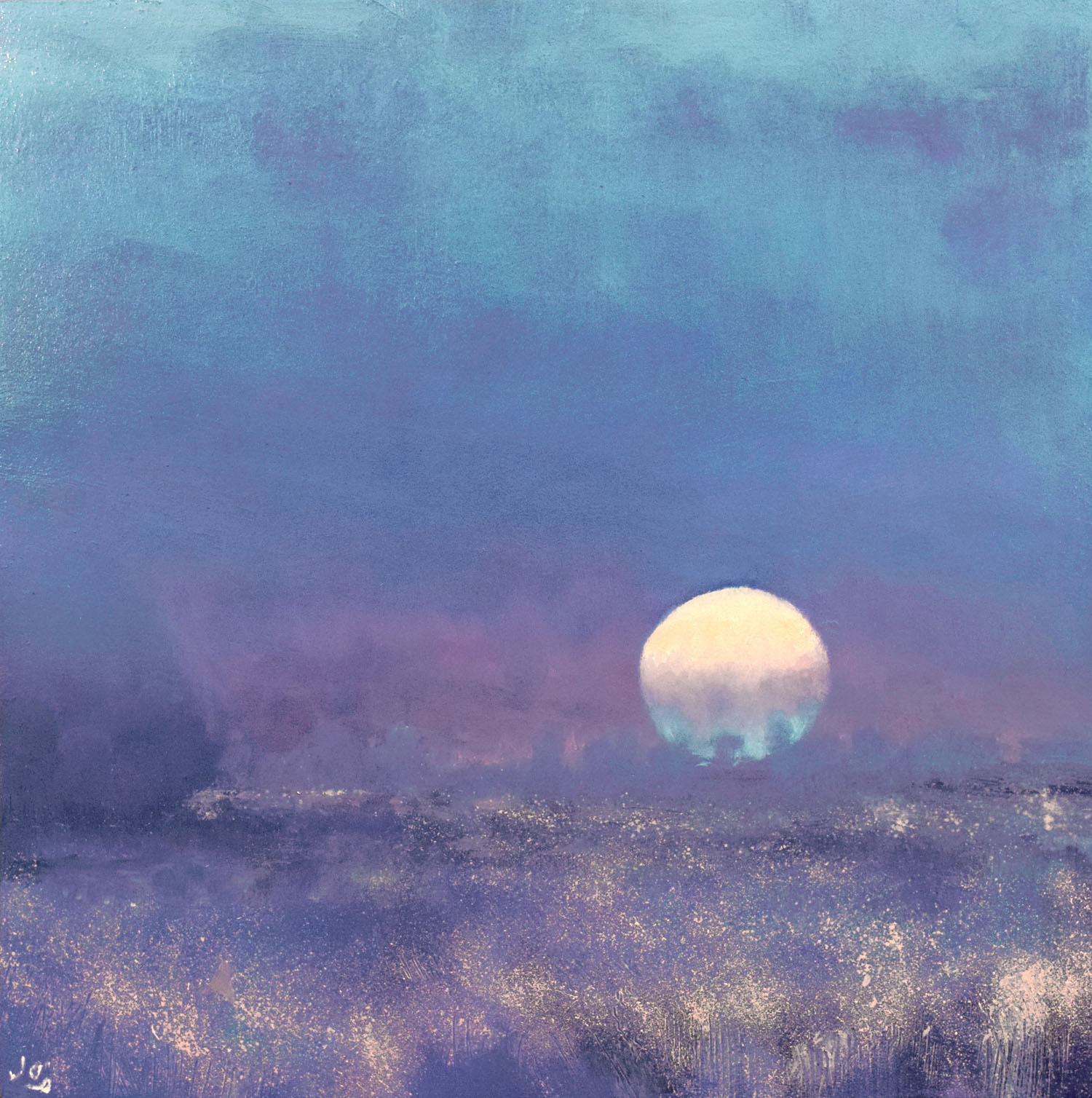 The Fallow Field, ©John O'Grady
12″ x 12″ x 1.75″, oil on deep edge panel
Not For Sale (NFS)
Le Plan de Dieu is a large plain of land, and it really is god's own country as it produces some very special red wines.
It lies to the east of the town of Orange and because it's a wide open space, it affords the viewer wonderful vistas across the vineyards.
At Easter I was driving through this area at night, probably around 9pm.
How lucky!
Slowly rising above the fields was a wonderful moon.
The most exciting part was seeing that first slither of glowing light rise above the horizon.
I pulled over next to a fallow field overgrown with wild shimmering grasses to enjoy the spectacle.
While I was painting this, I remembered a moon that imperceptibly emerged to grow and grow until it appeared enormous. Its colour started with a pale powder blue at the bottom and gradually changed to rose and gold.
I was so moved by the experience you would think I took a photo. But no. I wanted to hold the feeling of that sight close to me and trusted it would resurface while creating.
A month later, here we are.
In the painting, I think the moon is even larger than I remember it. It reveals the awe felt.
It's a meditative piece with a simple composition that accentuates the floating, glowing orb in space.
When I came to write this piece, I checked on the full moon dates, making sure it was Easter. I discovered that this particular moon is a very rare occurrence. It's called a 'Blue Moon' because it's the second of two full moons that occurred within the same month.
I guess that's where we get the saying 'once in a blue moon' from.
What is it about the moon and stars?
Seeing such sights connects us with something really deep, spiritual and profound.
It gets me every time.
Does it you? Let me know.