It's always enjoyable to take a look back at last year's paintings and notice how the work has changed.
To say a big thank you for your continued support during the year, I am offering you 20% off any original painting displayed in the Art Shop.
To avail of the offer, enter your special code withgratitude (in lower case, in one word) in the Coupon code grey box you'll find in the basket and click on the Apply coupon box.
The offer runs until midnight CET (central European Time) on Wednesday 16th January 2019 and includes free shipping as usual.
Here are my own personal favourites. Enjoy!

The Road to the Sea, ©John O'Grady
10″ x 14″ x 0.75″, oil on canvas, ready to hang.
SOLD
A recent feature in this past year's paintings has been silhouetting objects and land against the light of the sky, to create a strong dramatic atmosphere that one might see in the West of Ireland.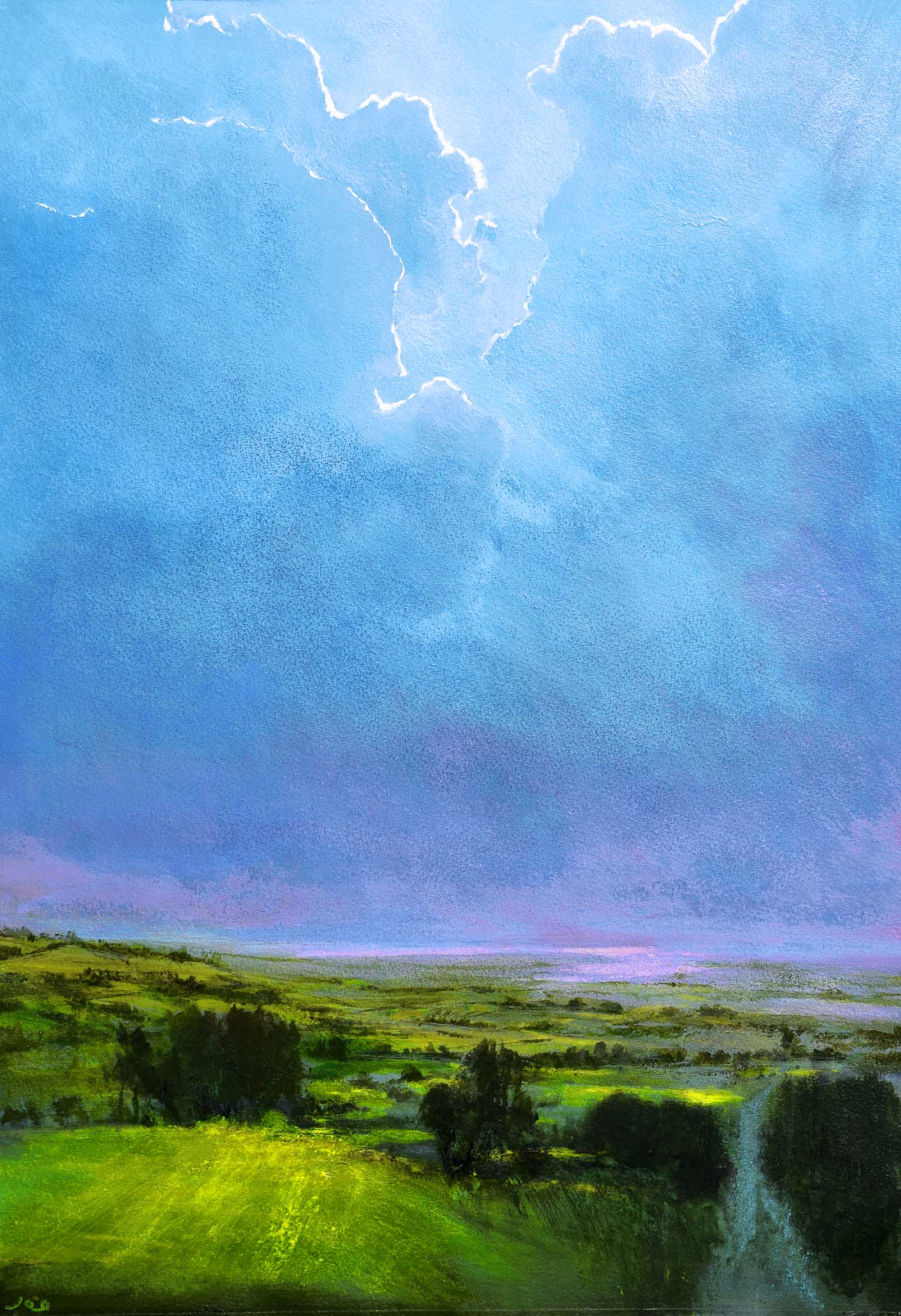 Looking Up ©John O'Grady
23.5″ x 15.75″ x 1.3″ acrylic on Arches watercolour paper, mounted on deep edge panel and ready to hang.
$977
I rarely paint long portrait formats. This one accentuates the big sky with large clouds in bright shades of blue that contrast with the lush, green fields of Ireland.



Moonrise over the Orchard ©John O'Grady
12″ x 12″ x 1.75″ acrylic on deep edge canvas, ready to hang.
$397
You've probably noticed I love nocturnes and moonscapes. This magical moonlight explores the conjunction between patterns, colours and textures. The swirling clouds in the night sky, the pink blossoms and green grasses dotted with flowers contribute to make this painting decorative and joyful.



Lovers of the Lake , ©John O'Grady
12″ x 12″ x 1.5″, oil on canvas, ready to hang.
$397
Again this painting is more decorative and feels magical, romantic even if we take into account the small boat with the couple enjoying drifting on the smooth, mirror-like surface of the lake.



Dusk at Saint Hippolyte ©John O'Grady
31.75″ x 31.75″ x 1.8″, acrylic on deep edge canvas, ready to hang.
$2190
This is a Provençal dusk painting with a full rising moon. When you happen to see a large full moon rising, awe makes you want to stop to take it in and some time later, capture that special moment in paint. I chose simplified shapes and forms with a nuanced colour arrangement to emphasise quietness and the sublime.



The Road to the Sea III, ©John O'Grady
12″ x 12″ x 1″ oil on panel, ready to hang
$397
Another road to the sea painting showing a scenic view of the ocean from a high vintage point in the west of Ireland. Light and clouds shift by but the island remains, anchor-like. Fleetingness rubs shoulders with what stays constant…



The Road to the Sea IV, ©John O'Grady
14″ x 10″ x 0.75″, oil on canvas, ready to hang.
$397
This painting uses various shades of blue and lots of white to accentuates light and dark patterns. The ocean is close. We can feel the damp air. It has rained and light is coming out…


Do you have a favourite painting from this selection or from the ones created in 2018? Please let me know by leaving a comment.